Surprisingly, vegan's are essentially on a plant based diet. The help the environment with their eating habits by only needing one third of the land used by meat and diary consumption. In fact, they are providing their bodies with an all natural diet that will improve their physical, mental, and spiritual health. Why go vegan? Vegans have been known for their youthful skin, increased energy, and superior health conscious diet. Most people that choose to be a vegetarian, do so, because of the tremendous health benefits. Dietary restrictions doesn't have to mean dull boring food. The following list is the top five snacks that vegans eat when they want a quick bite.
5 Essential Vegan Snacks
Sweet & Salty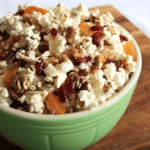 If you have the time, why not create a great sweet and salty popcorn trail mix for vegans. This is a versatile snack that can be made at home and used as a portable snack. It's very easy to make by popping your favorite popcorn and adding a mixture of your favorite trail mix. The mixture can be separated in sandwich bags and be a 7 day treat. It offers a healthy and cost friendly vegan snack. Here is a great recipe available at Inspired Edibles.
Readily Available
A vegan without their choice of their favorite nuts as a great vegan snack is just nutty (unless you represent the 15% of the population that is allergic to nuts). They can be purchased at nearly every store that sells food and snacks including a convenience store. Best of all, you can get a variety of nuts like peanuts, walnuts, cashews, hazelnuts, coconuts, macadamia, cacao, Brazilian, and almonds. Need there be more? However, these are just a few, you still have the option of several others.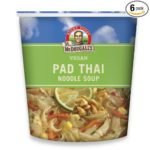 Yankee Doodle A Cup Of Noodles
Looking for a light hearty snack that can be enjoyed as lunch? Dr. McDougall's offers a very popular Pad Thai noodle soup on Amazon that comes in a variety of flavors. They come in 1.9 ounce cases of six with ingredients that include organic noodles, shitake mushrooms, tofu, ginger, and wakame.
Fruits & Vegetables
Why not have a juicy red apple or delicious orange as a vegan snack? There are a variety of fruits that will make a great snack for a vegan. If your diet is all natural try a banana, grapefruit, strawberries, grapes, pomegranates, kiwi, and pineapples. Mix them with your favorite whey or soy powder mix and you can have a tasty healthy smoothie. For a great vegetable vegan snack, thousands of vegans swear by roasted chick peas. It's a simple and easy vegetable snack that vegans will love. Simply, roast a can of chick peas with your favorite seasoning and presto, you have a light hearty vegan snack.
These are just a few vegan snack ideas, but their are endless tasty treats available for a health conscious diet with a variety of great tasting food items that don't include meat or dairy. Explore more options by doing a online search using vegan snacks in the search inquiry.